The competition in the healthcare sector is intensifying day by day. If you are running a pharmacy business and wish to expand it further, you first need to devise a solid strategy to make your business stand out and attract more business. 
Online pharmacy apps and medicine delivery apps are among the top trends in B2C and B2B healthcare segments, creating colossal business potential and widening reach for pharmacy businesses. 
The Role of Medicine Delivery App Development Today
Hopping from store to store to find medicine order medicines is not something today's consumers prefer to do anymore. With telemedicine spreading as an efficient and affordable way to access quality healthcare and medication from the comfort of their homes, people are increasingly warming up to medicine ordering apps and online pharmacies.
Pharmacy businesses have also gone to great lengths to make the ordering process as simple as possible for their customers. People can easily browse through all the different categories of medicines and add the ones they need into the cart. Then they need to add the delivery address and choose the payment method, and they will receive the medicines right at their doorstep.
Pharmacy businesses can attract and retain a larger customer base by offering medicine delivery services. Medicine delivery apps are a lifesaver for people who want to avoid long queues at their local pharmacy. This is especially true for elderly patients suffering from various health complications.
Top Reasons for the Popularity of Medicine Delivery Apps
SaaS pharmacy software or Online pharmacy apps have been enjoying widespread popularity over the last couple of years. In 2020, the coronavirus pandemic forced people inside their homes, generating an almost 60-70% rise in consumers buying their medicines online. This trend urged more and more pharmacy companies to launch their own apps to serve the market demands and grow their business. 
Here are some reasons why medicine delivery apps are so popular:
Quick ordering process: Ordering medicines on an online pharmacy app is super easy as you only need to search for the prescribed drugs, add them to your cart, and confirm your order. And you can do all this in just a few clicks!
No traveling needed: You don't need to step out of your house or hop from one store to another when using a medicine delivery app. Your order will be delivered to your doorstep by the pharmacy. 
Numerous discounts: Apart from saving on travel expenses, you can also get heavy discounts on your orders. Pharmacy companies often provide medicines at a competitive price to attract more buyers to their online stores.
Access to detailed information: You can access all the information regarding a specific medicine prior to buying it right from the app. You can check all the details from the ingredients to benefits and probable side effects.
Instant notifications: Medicine delivery app development companies offer instant push notifications to keep users informed of orders, restocking of particular medicines, discounts, and so on. 
The Main User Roles and Features in an Online Pharmacy App
Before you dive into the medicine delivery app development process, it's essential to decide on the features you want to include in your application. Usually, such apps consist of three separate panels – the customer app, the pharmacist panel, and the admin panel. Below are some key features that you can include to make your app stand out from the rest.
Intuitive UI – An easy-to-use app interface can boost user engagement and satisfaction.
Quick search – Easy search features to allow customers to find the medicine they are looking for.
medicine order upload – Directly upload a picture of your medicine order from your phone gallery.
View order history – View past orders in just a few clicks and reorder the required medicines.
Customer wallet feature – Enable customers to make quicker payments and process faster returns through the customer wallet option.
Alternative medicine search – Easily identify the substitute medicines with the same composition as those you are searching for.
Product catalog management – Divide the available medicines into different categories to make finding the right medicine easier.
Information management – Add and update the details for all the available medicines.
View orders – View orders and accept or decline them depending on availability.
Real-time chat – Instantly address customer queries with the in-app chat feature.
Report generation – Generate sales reports in just a few clicks.
Order management – View, manage and track all orders from the admin dashboard
Returns and refund management – Accept return requests and process refunds directly into the customer's wallet or bank account.
Targeted discounts – Provide targeted discounts to customers based on their browsing history and past orders.
Reports and analytics – Generate reports instantly from the app.
Five Ways an Online Pharmacy App Can Help You Sell More Online
If you are looking to boost your sales figures, here are a few reasons why launching an online pharmacy app can benefit your business.
Provides a competitive edge

: Launching an intuitive and efficient app can help your business stand out from the rest of your competitors. Moreover, you can sell your products at a competitive price by offering discounts to attract more customers to your brand.

Showcase products effectively

: A mobile app makes it easier for pharmacy businesses to showcase their entire range of products to potential customers. Moreover, customers can also gain access to all the necessary information about the product before purchasing.

Better customer experience

: When you build a fast and efficient app that customers can use without any hassles, they will be more inclined to stick to it. Be sure to include a range of practical features to ensure a positive customer experience. This will help you boost the online sales value.

Boosts brand loyalty

: The only way to increase brand loyalty and develop a solid customer base is by providing them with the services they need efficiently. And a mobile app can help you achieve just that. When you provide a positive shopping and delivery experience, customers would also opt to use your app for future orders.

More efficient marketing

: You can use your medicine delivery app to implement a strategic marketing plan. Since people spend a considerable part of their time using their smartphones, your customers are more likely to view promotions and deals that appear in the form of app notifications.
Check out the guide for Medicine App Delivery Development
If you haven't yet planned how to launch a medicine delivery app, now is the time to take the plunge. At EMed HealthTech, we offer exceptional online pharmacy app development services to help boost your business revenue. Reach out to our expert team with your requirements today!
Related posts
Medicine Delivery App
Medicine Delivery App: Key Features, Cost and More
Medicine Delivery App Development: Key Features, Cost, and More
Read more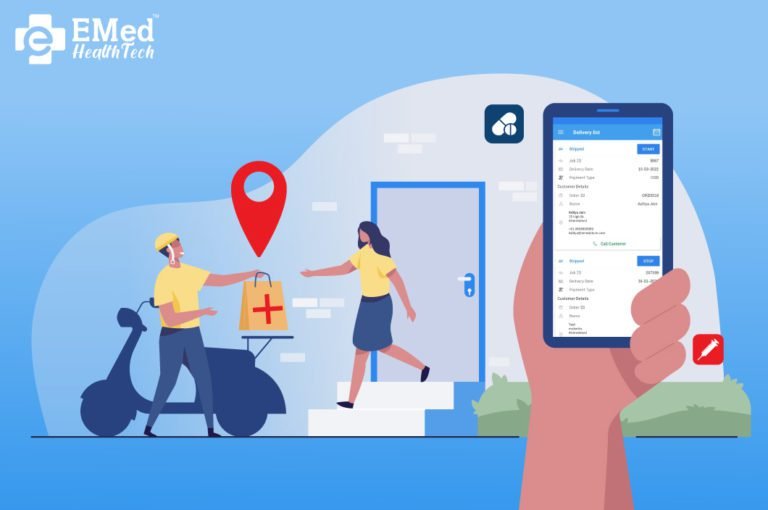 Medicine Delivery App
Medicine Delivery App Development Guide for Online Pharmacies
Medicine Delivery App Development Guide for Online Pharmacies
Read more