History of EMed HealthTech
We build software solutions using emerging technologies for healthcare startups.
We are healthcare IT consultants specializing in technology, healthcare, and marketing. Our mission is to empower our clients to maximize their business outcomes and improve their users' experience. EMed HealthTech provides intuitive solutions for Telemedicine, Doctor appointments, Online Pharmacy, ERP, etc., and other technology-driven services to create more efficient healthcare.
From The Beginning Successfully
Providing Best Service
Here is our story
Feb 2015 Founded Baldan Infotech (Proprietorship Firm) Sep 2015 Launched Online Pharmacy Platform MVP
February 2015
Feb 2016 Go to Market of Online Pharmacy Platform
Branded Online Pharmacy Platform as EMedStore
First 65 clients by end of 2016
Winner of Highest online Pharmacy Provider in 2016, Worldwide by Insight Success
February 2016
Award for Top 25 Pharma & Life Science IT Solutions provider by CIO Outlook
No of Clients: 145
No of Employees : 15
February 2017
India's Best Healthcare IT company by Startup India Foundation
Innovative Healthcare IT company by Startup Armenia Foundation
No of Clients: 250
No of Employees: 26
February 2018
Registered company as EMed PharmaTech Pvt. Ltd.
Shifted to a new premise
No of Clients: 380
No of Employees: 39
Started Development of Telemedicine and Diagnostic platform
February 2019
Introduced 2 New Products, Telemedicine and Laboratory to serve Healthcare Clients
Helped Pharmacies to sustain and generate revenue through our platform during COVID
No of Clients: 560
No of Employees: 45
February 2020
Rebranded as EMed HealthTech Pvt. Ltd.
Introduced ERP and MR App for Pharmacies Chain
Starting working on Billing Software and Self Ordering Kiosk for Pharma Clients
February 2021
Leadership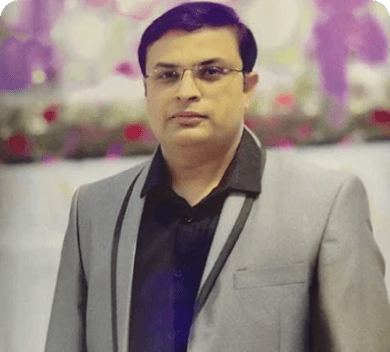 He is a techno-commercial with a bachelor's degree in Engineering and a master's in business administration with 14+ years of experience in eCommerce store development, marketing and sales. He has managed key accounts like ISRO(SAC), PEPSICO, ACONEX(ORACLE), SEDCO, GUJARAT GAS LTD., etc.
He has done Bachelor of Engineering from Bangalore. Prior to the operation head role at EMed HealthTech, he was the mobile lead. He is strong at handling IoT projects with 10+ years of experience in the software field. Successfully Lead the BAXTER Product Launch.
Aabid Ali
Chief Technical Officer
He possesses a Pharmacist degree and has Pharma Manufacturing and Export / Import business. He helps in business expansion through strategic partnerships to take this product to the Middle East and African countries through his medicine business and networks. He has 12+ years of experience in this domain.
An exceptionally unique experiance tailored to you
We have been relentless in our quest to always
provide a unique and elegant experience
to our clients.
Digital Strategy
We transform healthcare digitally to optimize, streamline and improve the workflows of businesses, and stay ahead of the curve.
Innovation
We leverage disruptive technologies and industry trends to provide innovative solutions to the unique needs of healthcare.
Experience Design
Our trademark exquisite design remains consistent across all the projects, big and small, providing a coherent user experience.
Awards & Achievements
We graciously accept awards and achievements bestowed upon us over the years while sticking to our mission and principles.



Over
560+ Satisfied Clients
We are committed to providing scalable digital solutions to our clients, from enterprises to startups, that drive business and increase customer engagement.