Technological advancements are scaling new heights every day. Consequently, many technology-based solutions have been widely integrated into the healthcare industry, aiming to enhance efficiency and optimize clinical workflows. Considering how technology provides convenient solutions for all modern problems, the wide adoption of technology into the healthcare landscape is inevitable. The clinics that adopt the latest technologies continue to thrive as intelligent systems continue to propagate. The forthcoming times are set to witness the large-scale adoption of innovative technologies into the healthcare landscape.
What is Digital Transformation for Healthcare?
Digital transformation in healthcare is a cumulation of the latest trends and innovations in digital technologies that significantly enhance healthcare operations. The harnessing of advanced technologies like AI, ML, IoT, and other cloud technologies is the backbone of this transformation.
Modern technological advancements in healthcare allow efficient handling of critical medical data, medical records, medicine orders, and other data. The impact of pioneering technologies like IoT devices, wearable gadgets, real-time medical data monitoring, and many other digital technologies is massive in making healthcare more advanced and accessible. The adoption of novel technologies opens up new business models and productivity potential.
Remember the days when we had to travel for hours for a follow-up visit that would last for about 5 minutes? Thankfully, there's an alternative to this type of event now. What is that alternative? Digital Healthcare. Specifically, it is called Telemedicine or eHealth apps, medicine delivery applications, doctor apps. Now let's delve deep into technologies that are fuelling this digital transformation and know about them in detail.
Augmented Reality (AR) and Virtual Reality (VR) are among the most promising emerging technologies. They allow researchers to perform risky procedures virtually before carrying them out on human beings.
AR and VR empower doctors to study 3D models of human organs and tissues in simulation labs. They can even help doctors in clinical trials to test medicines on virtual organs to predict how a real person will respond to the treatment. Better known as 'virtual patients' or 'organs-on-a-chip,' this use of AR and VR technology can substantially reduce animal testing in cosmetics and fast-track clinical trials.
That's why the global AR & VR healthcare market size is expected to reach 9.5 billion USD while growing at 27.2% CAGR from 2021-2028.
Imagine you lose access to all your medical history and medicine orders because you lost the file containing them? We know how difficult it is to store and transfer critical patient files securely. But thanks to Blockchain, it can be a distant memory. What is Blockchain?
Blockchain is a decentralized peer-to-peer network that allows shared digital ledgers to enhance the security of digital transactions and information sharing. In short, it can enable us to share our complete medical information with chosen doctors securely. Thus, Blockchain improves medical records access and EHR.
Blockchain allows safe information sharing without the need for a third party, and it ensures great transparency through its public-private key system.
The comply with regulations remains to be seen. But, interpretability, security, and transparency offered by Blockchain currently have no match.
IoT and Wearable Devices:
Cutting-edge automation techniques bundled with modern machine learning programs are well-equipped to bring futuristic visions of healthcare into reality.
IoT is a central building block to making healthcare more advanced. So much that two terms are often confused and even used interchangeably. At its core, IoT combines sophisticated hardware setups including various devices and sensors to advanced connectivity to enable a real-time seamless network of interconnected devices to facilitate data collection and monitoring. What does this mean for the healthcare sector?
Well, at first, it can facilitate the operation of smart wearable devices and the overall healthcare network system. For example, various medical monitoring devices like blood oxygen meters, heart rate indicators, blood pressure monitors, and IV drop meters can be attached to a patient's bed and monitored in real-time by the nurses remotely. The devices can also be programmed to alert nurses when there is a change in a patient's predefined condition. With the advancement of smart wearables like smart fitness bands and smartwatches, healthcare has been more accessible and timely.
In the healthcare sector, IoT can also be used for hospital operations and equipment maintenance, among others. The IoT in Healthcare is already worth 158.07 billion USD with 50 billion connected devices as of July 2020 and is set to grow exponentially.
AI and ML hold tremendous potential in terms of advancing healthcare. Artificial Intelligence (AI) replicates human decision-making by incorporating advanced algorithms. In comparison, Machine Learning (ML) utilizes past data to generate accurate outputs. Put together, they create networks of autonomous, interconnected devices and utilize big data to optimize workflows and drive intelligent actions into the physical world to boost revenue.
AI has demonstrated its use cases in many fields, but in healthcare, AI was seen as a futuristic technology until AI showed its uses in medical research and patient monitoring. Let's take the example of a medicine discovered by AI, which is set to enter human trials soon. This medicine is developed by AI to help people suffering from OCD.
The advanced algorithms based on AI and ML have the potential to predict treatment and care plans for patients, and they hold the promise of advanced preventive medicine.
Robotic Process Automation (RPA):
There's no denying that healthcare is a labor-intensive sector, and many times, it faces a shortage of labor. One way to address this is by incorporating automation techniques, especially RPA. RPA can take on high-volume repetitive tasks of the healthcare industry and divert human resources for more value-added activities. It can make a huge impact in large healthcare organizations by relieving mundane administrative operations.
All the interconnected IoT devices generate vast amounts of data, commonly referred to as big data. The analysis of these data is foundational to the efficient working of smart wearable devices. The integration of advanced data analytics facilitates data analysis and derives useful information from it to enhance patient monitoring and system feedback. The utilization of big data facilitates data-driven decisions based on real-time data.
Take the example of the recent use of data analytics to identify distinct 'types' of a virus. In the UK, King's College of London developed a symptoms study app and used input gathered in the app to identify six distinct types of a virus during the COVID-19 pandemic. They utilized data from 4 million users to analyze their symptoms and create the model to understand the different reasons behind their symptoms.
Conclusion:
Cloud technologies coupled with best cybersecurity practices allow the above-mentioned technologies to truly usher in the digital era. These technologies make the treatment, prevention, and management of diseases much more efficient that could save many lives in years to come.
If you are a healthcare organization looking to leverage modern technologies, look no further than the full suite of healthcare transformation products of EMed HealthTech. Starting from medicine delivery app to Telemedicine or doctor applications and pharma ERP, our products are developed using the most advanced technologies that enable you to leapfrog in the online space and future-proof your business.
Related posts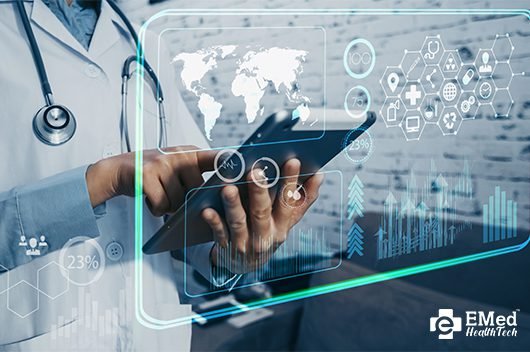 Healthcare Digital Transformation
How Digital Health Can Help Developing Countries in Advancing Health System?
How Digital Health Helps Developing Countries in Advancing Healthcare?
Read more