Client Background
Google LLC is an American technology company that specializes in search engines, online advertising, cloud computing, software, quantum computing, e-commerce, artificial intelligence, and consumer electronics. Although Google is a big company, its work in the healthcare domain is quite less obvious. So, let us look at the contribution of Google in the healthcare domain.
Google has made several impactful contributions to the healthcare sector, particularly in the healthcare IT sector. It has developed many solutions for the healthcare sector, some of which are:
Google Health: Google Health is a platform that allows individuals to manage and track their health information, including medical records, test results, and medication lists. The platform also provides tools for connecting with healthcare providers and accessing relevant health resources.
Google Fit: Google Fit is a fitness-tracking platform that allows users to track their physical activity, nutrition, and sleep patterns. The platform integrates a range of wearable devices and health apps to provide a comprehensive view of an individual's health and wellness.
Google Cloud for Healthcare: Google Cloud for Healthcare is a suite of cloud-based tools and services specifically designed for the healthcare industry. It includes a range of capabilities, such as data management, analytics, and machine learning, that can be used to improve the efficiency and effectiveness of healthcare organizations.
About Project
EMed HealthTech helped Google in developing one of its healthcare-related products; an AI-based research product where they wanted to digitize manually handwritten paper-based prescriptions in different handwritings and languages.
They are developing one more healthcare product along the lines of their hugely popular other projects.
As we know that the majority of doctors write medicine brand names in the prescription along with their strengths. Now each medicine can be associated with the composition and each composition is associated with the symptoms. For e.g. Dolo 650 has paracetamol salt and paracetamol salt is used for treating specific pain. Now each symptom is mapped with ICD10 encoding to identify the exact diseases for EHR/EMR associated with the symptoms for proper treatments.
Google needed data to fine-tune its machine learning (ML) algorithm. And digitize manual hand-written prescriptions. For which EMed HealthTech provided raw medicine database, symptoms data, etc., in ICD encoding. With the help of medical coders and our in-house Medicine Data Teams, we created two data sets.
1) Which has medicine details along with symptoms.
2) Sample dataset with the ICD10 code mapping for future reference.
Key Challenges
Google needed reliable and comprehensive data related to the healthcare domain that could associate a particular drug with a disease, symptoms, etc.
Additionally, they needed these datasets in the ICD (International Classification of Diseases) encoding.
ICD, or International Classification of Diseases, codes are used to classify and describe medical diagnoses and procedures. These codes are used by healthcare providers and payers to report and track medical conditions and treatments accurately.
Google has made use of ICD codes in several ways. For example, Google has used ICD codes to improve the accuracy of search results for medical queries. When a user searches for a medical condition or treatment, Google may use ICD codes to provide more relevant and accurate information. Google has also used ICD codes in its healthcare products and services. For example, Google Health, a platform that allows individuals to manage and track their health information, uses ICD codes to classify and describe medical conditions and treatments.
In addition to these uses, Google has also developed tools and resources for healthcare providers to help them use ICD codes more effectively.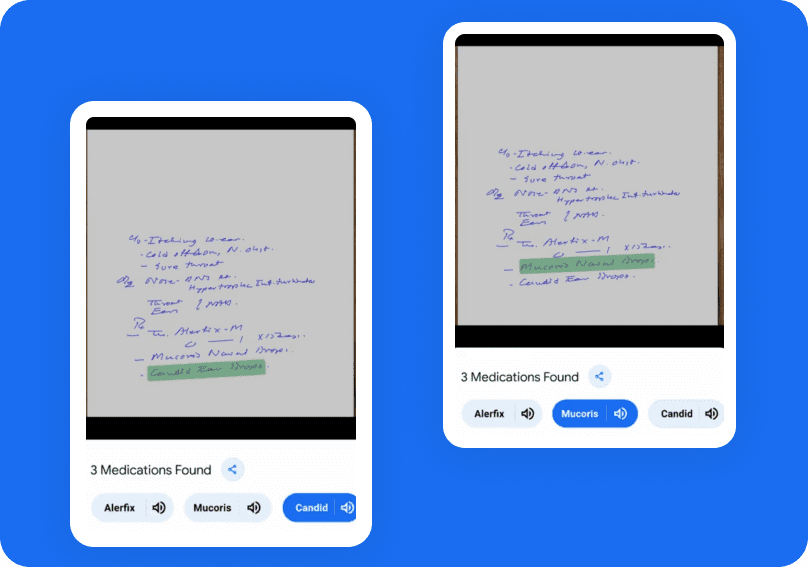 Solution
EMed HealthTech provided the following data for all the datasets: Product name, its uses, product composition, packing type, whether a prescription is required for that drug, etc. EMed HealthTech also provided product manufacturing company and drug interaction details for some drugs. EMed HealthTech is proud to have worked with clients like Google in developing one of the most impactful healthcare products.
BCCI – Telemedicine App for Sports/Athlete
The BCCI - Board of Control for Cricket in India wants a teleconsultation platform and wants to provide online consultation to their athletes. So they contacted EMed HealthTech to develop a Telemedicine platform with the desired features
View case study
CIMS Hospital – Event Management Software
CIMS Hospital is a super-speciality hospital in Ahmedabad, Gujrat. Patients from India and other countries choose this hospital for its exceptional healthcare services.
View case study