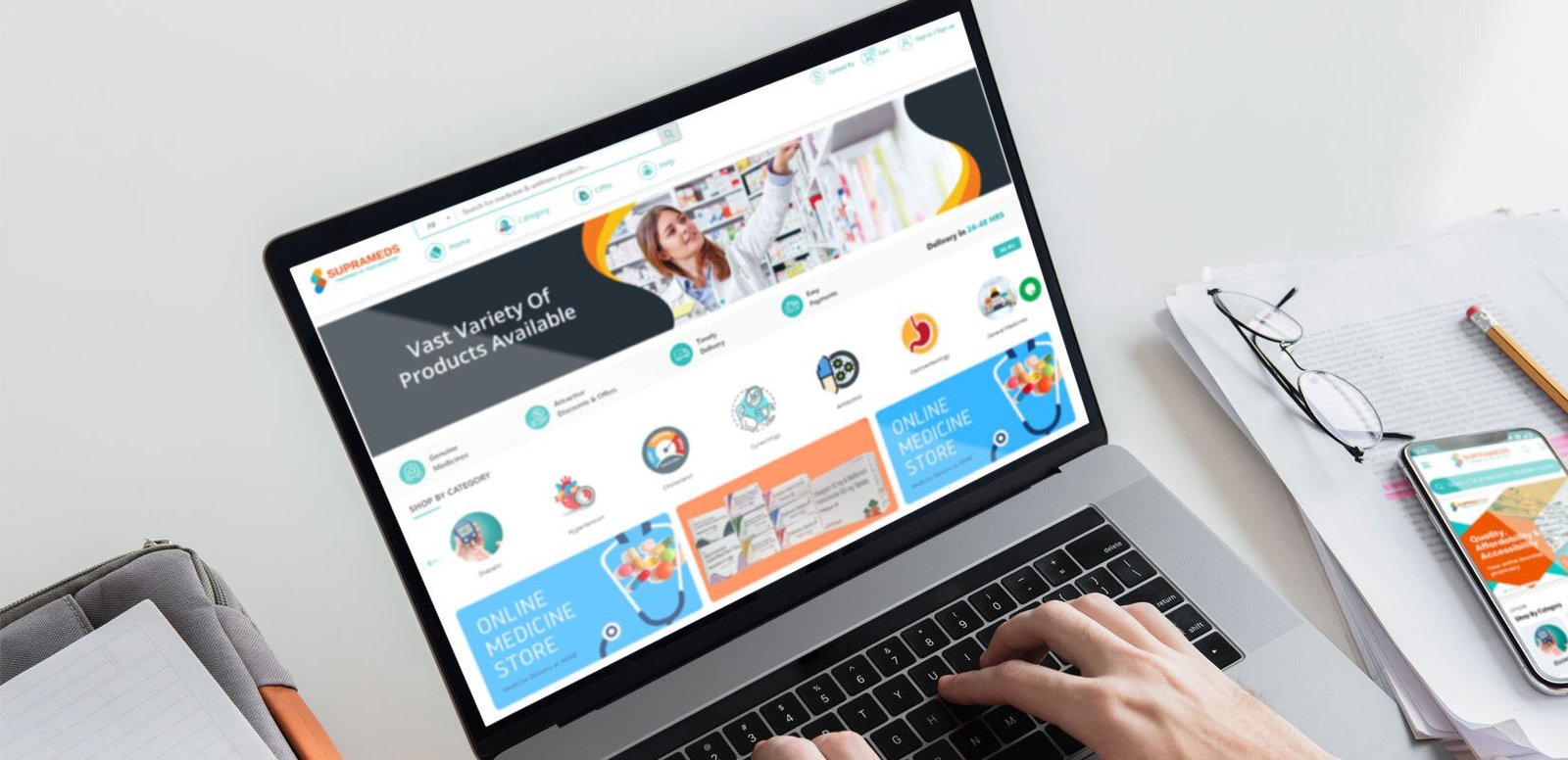 About Project
SUPRAMEDS is a well-known medical store based in Hyderabad. It is an online venture from Supracyn Pharma. SUPRAMEDS is serving all its patients by delivering medicines, OTC products, cosmetics, and generic medicines through its ePharmacy portal developed by EMed HealthTech.
They contacted us to develop an online pharmacy platform that is easy to use and makes the medicine purchase experience pleasant. Thanks to the new platform, they are getting more business and capturing a wider consumer base.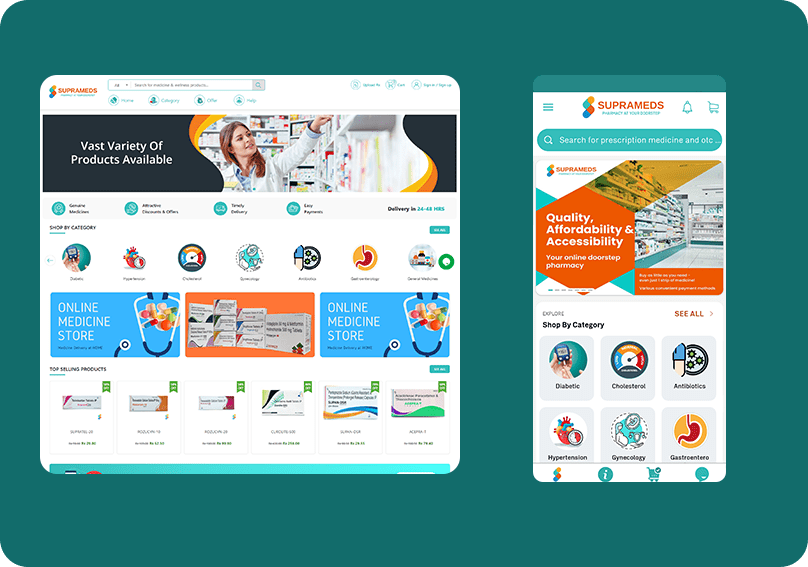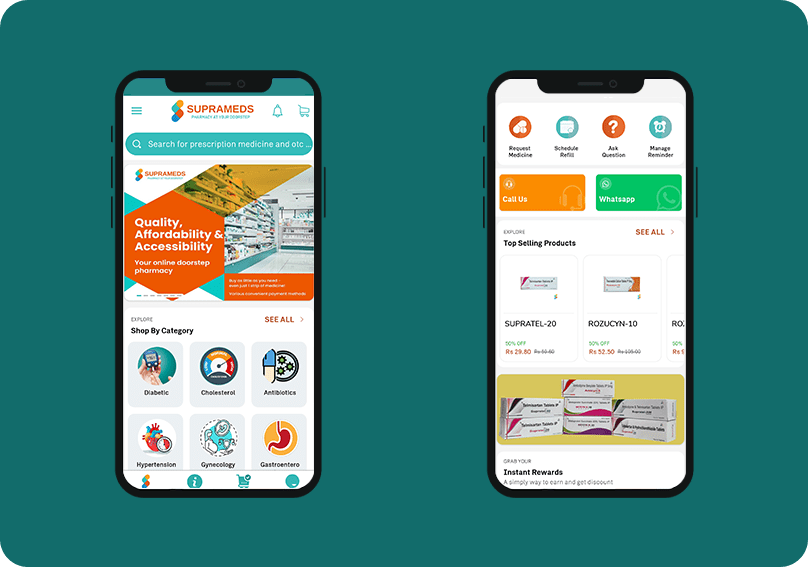 Key Challenges
In addition to some basic requirements that come with a healthcare portal, like security, robustness, etc. they wanted the platform to be user-friendly and minimal. They also wanted category-wise product sorting and the ability to display ongoing offers to attract customers. Moreover, they also wanted to put up health blogs to connect better with customers. They also wanted to show complete medicine details including their indications, side effects, precautions, and alternatives directly below the medicine information.
Solution
EMed HealthTech understood the requirements and developed the platform to suit the requirements perfectly. EMed HealthTech first developed an Android app and a website for their ePharmacy platform. Both platforms have been successful, which motivated SUPRAMEDS to develop an iOS app as well.
We have integrated many functions that have helped them capture more customers and demographics. Fast search, Clickable banners, heath category-wise products, and top-selling product lists on the homepage proved to be very useful for minimizing the learning curve for its patients.
Business Benefits
After launching its online pharmacy web platform and Android app on 28th March 2022, SUPRAMEDS quickly saw its customer reach increase by many folds. So, they launched an iOS app on 1st September 2022 to meet the overwhelming customer support.
SUPRAMEDS is very well content with its success during this venture and hopes to develop a stronghold over the city.
EMed HealthTech is proud to have worked with SUPRAMEDS.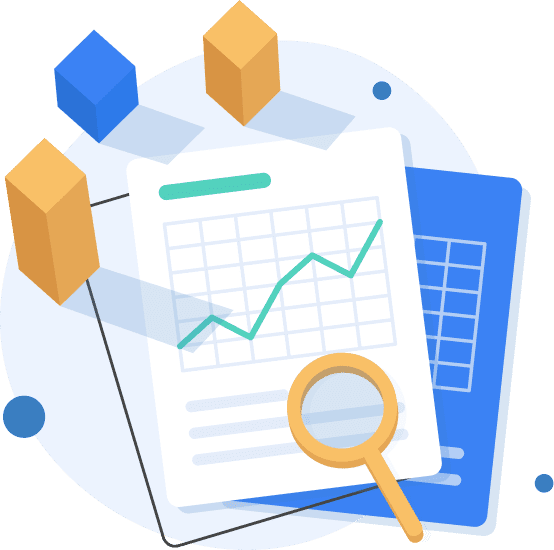 MedOrange Pharmacy
MedOrange Pharmacy is a large pharmacy chain from Zimbabwe. They are a reputed name in Zimbabwe and have been operating there for a long time.
View case study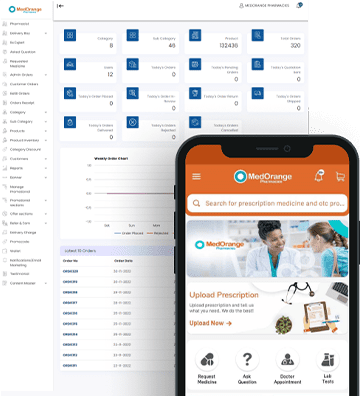 One Bharat Pharmacy
One Bharat Pharmacy is a New Delhi-based online pharmacy and lab appointment booking platform.
View case study