Client Rhythm Heart Institute
About Project
Established in 2012, Rhythm Heart Institute is a hospital chain by Synergy Lifecare Pvt. Ltd. This hospital chain has many clinics across multiple towns and rural areas. This clinic manages large operations, which is evident by its staff of more than 400 individuals. They offer a wide range of services, including cardiology, neurology, and orthopedics. When they wanted to launch the Telemedicine platform, they contacted EMed HealthTech to build a platform that can ensure the smooth handling of vast orders and deliver a user-friendly experience for end-users.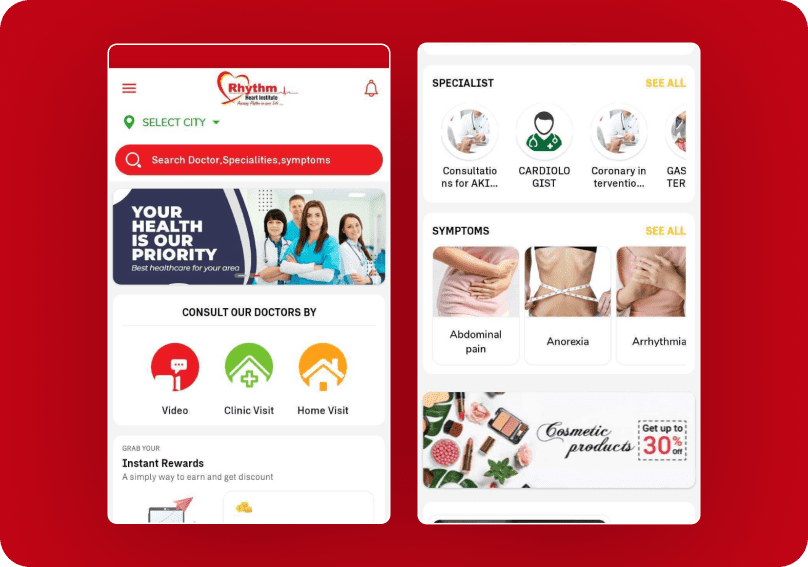 Key Challenges
Rhythm Heart Institute wanted a Telemedicine platform that could fulfil their demands while solving their pressing problems. Firstly, as they have various branches, they wanted to enable their patients to Search for Doctors based on Specialty and Symptoms. Secondly, as their clinics are also in rural areas, they wanted to make them visible on Maps and make navigating there easier.
Solution
EMed HealthTech provided them with a Telemedicine platform that enabled their users to search the doctors based on their name, specialities, symptoms, and city. If they have multiple centres in a city, users can search for a particular centre in a town, i.e. Banswara, Dahod, Baroda, etc.
EMed HealthTech solved their second problem by integrating it with Google Maps so that their patients can reach either of their hospital locations using real-time GPS location. This helped their patients visit them for the first time and quickly get there. Additionally, a patient can provide Hospital ratings & reviews, allowing others to judge it for themselves.
Business Benefits
EMed HealthTech built several features that helped them establish their reputation and facilitate interaction between doctors and patients. The ability of doctors to chat with patients via WhatsApp or call them on their registered phone numbers helped smoothen the interaction. And with the fact, the Super Admin can upload videos and promotional ads on the platform, which are visible on the user end, has also helped in establishing trust and brand value.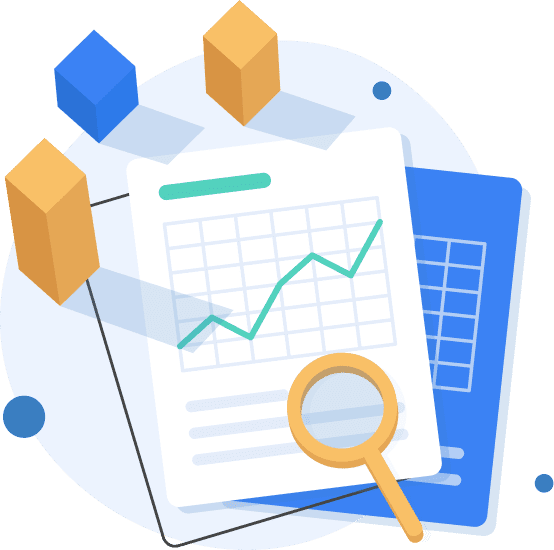 Google LLC
Google LLC is an American technology company, launched an AI-based research product with the help of EMed HealthTech to digitize paper-based prescriptions in different handwritings & languages.
View case study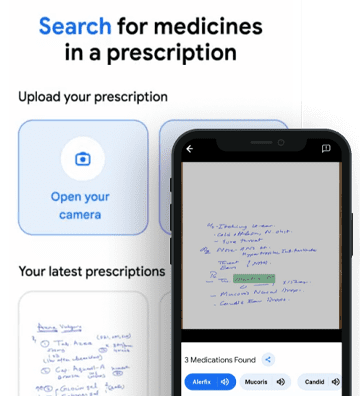 My Doctor Expert
My Doctor Expert is an initiative of the Rasna group, that is quickly garnering people's trust. They contacted EMed HealthTech to build an integrated healthcare platform. Since launching the platform My Doctor Expert has been witnessing substantial ROI ever since.
View case study