About Project
GrandMed is a very reputed pharmacy chain operating in Cambodia. They sell medicines, OTC products, cosmetics, and generic medicines online through the platform developed by EMed HealthTech. Additionally, they also provide lab tests and doctor consultation services. By utilizing the latest technologies, GrandMed aims to provide a next-generation healthcare experience to its customers and patients.
Although they have a very strong supply chain and are a household name in the healthcare sector, they didn't have much presence online. That's when they contacted EMed HealthTech, to tap into this growing market. GrandMed needed a user-friendly healthcare platform that could handle a vast amount of orders while ensuring customer satisfaction.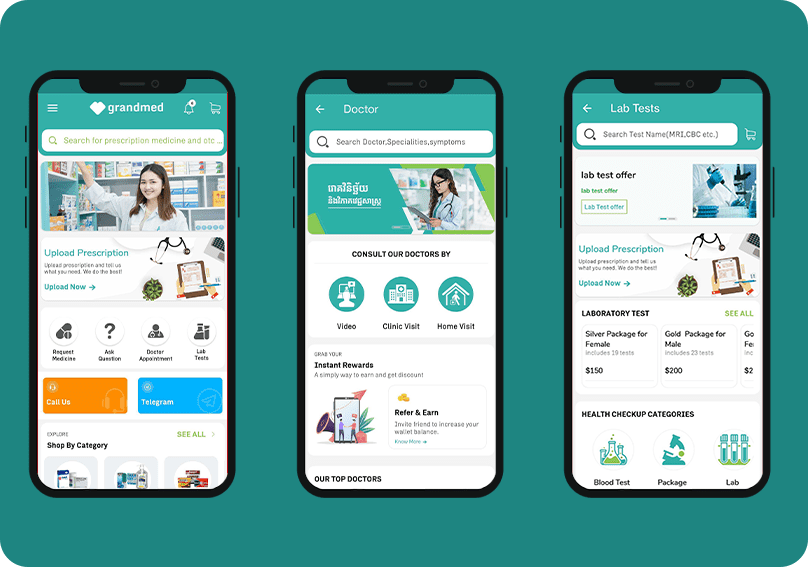 Key Challenges
As they provide preservation of health records, in addition to virtual doctor consultations, online lab booking facility, and online pharmacy, they needed a secure and robust platform. Managing all this on a single platform was no small task. Also, they desired a platform where patients could search for a doctor through their speciality and symptoms.
Solution
EMed HealthTech put its award-winning skills to work to overcome all the challenges and got it done before the due date. EMed HealthTech developed an Android app, an iOS app, and a website for their digital healthcare platform. Their implementation has been commendable, which has earned plaudits from their customers and patients.
We have provided them with a secure health records facility, the ability to assign orders to a particular pharmacy store and a simple query form integration to enable them to venture into the digital world seamlessly.
Business Benefits
After launching its integrated healthcare platform on 26th May 2022, GrandMed garnered massive customer approval and saw its outreach multiplied by multi-folds. As they have a prescription forwarding facility, the success of one service line invariably ensured the success of other services also. They have now become a market leader in digital healthcare in Cambodia.
After the successful implementation of the healthcare platform, they have their eyes firmly set on using the new influx of cash on development activities and further expansion. EMed HealthTech's expertise in the healthcare IT domain has been very beneficial for GrandMed to tap into the growing market of digital healthcare services.
EMed HealthTech is proud to have worked with GrandMed.
Medixpress
Medixpress is a licensed single pharmacy store located in Silchar, Assam, which has now developed a stronghold over the city's online pharmacy needs.
View case study
SUPRAMEDS
SUPRAMEDS is a well-known medical store based in Hyderabad. It is an online venture from Supracyn Pharma.
View case study