About Project
Odisha-based Healthcare Leader Bharat Medical Hall Wanted To Create A Custom On-demand Healthcare App. The answer: EMed HealthTech.
Bharat Medical Hall is a premier healthcare service provider from Odisha. They manage their digital operations under the brand name AMPM Bharat. They sell medicines, OTC products, cosmetics, and generic medicines online. They also provide lab tests and doctor consultation services.
When they wished to launch online healthcare services, they contacted EMed HealthTech to build digital platforms that can handle their orders and ensure customer satisfaction.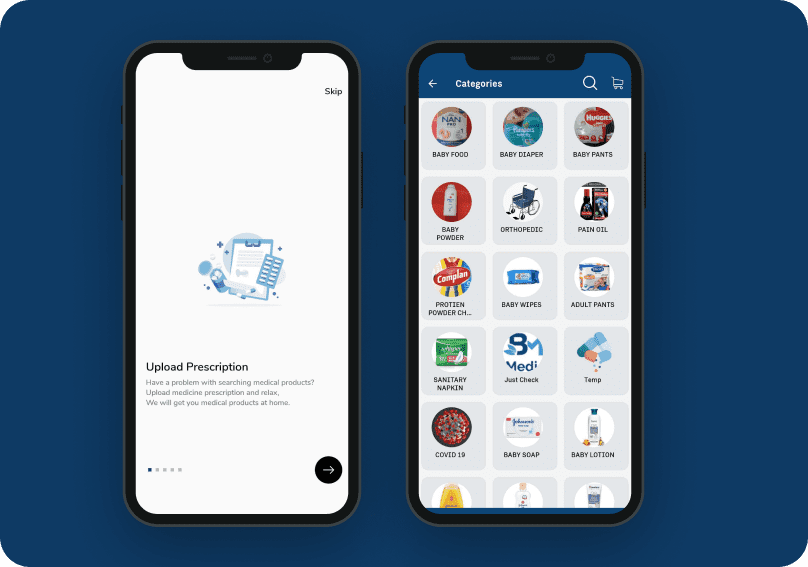 Key Challenges
In addition to online pharmacy, they also provide online doctor consultation (Telemedicine) and online lab booking facilities. Managing the sheer number of customers each day was cumbersome for AMPM Bharat. AMPM Bharat wanted a platform that could ensure a smooth handling of their clinical operations and deliver a user-friendly experience for their customers. They also wanted to digitize their appointment booking facility for doctor consultation and lab. They wanted an advanced token system for appointment booking.
Key Challenges
EMed HealthTech actively collaborated with AMPM Bharat and developed an Android app, an iOS app, and a website for their digital healthcare platform. We developed a custom hospital OPD token management system that reduced wait queues and optimized doctors' time. We were in touch with and after the implementation of the project and provided customizations as per necessity.
Business Benefits
After launching its online pharmacy platform on 5th January 2021, AMPM Bharat garnered massive customer approval, and later on, they also launched online lab booking and telemedicine with us. They have now become a market leader in the online pharmacy market of Odisha. Their lab booking facility and telemedicine programs have also been successful.
EMed HealthTech's expertise in the healthcare IT domain has been very beneficial for AMPM Bharat to tap into the growing market of digital healthcare services. Their gradual implementation of our plenty of features has ascertained steady growth and customers' have also remained interested. EMed HealthTech is proud to have worked with AMPM Bharat.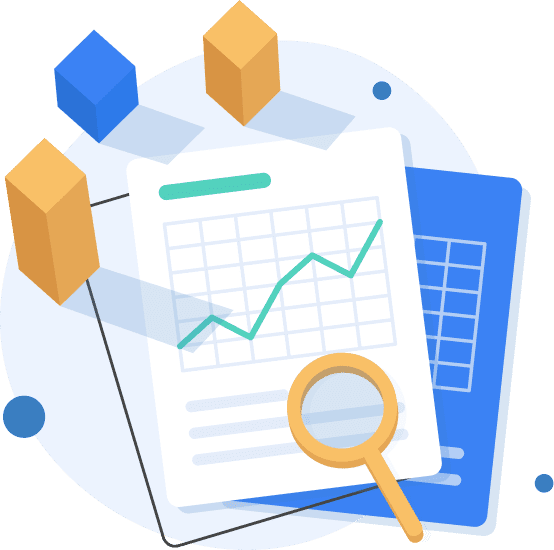 MedOrange Pharmacy
MedOrange Pharmacy is a large pharmacy chain from Zimbabwe. They are a reputed name in Zimbabwe and have been operating there for a long time.
View case study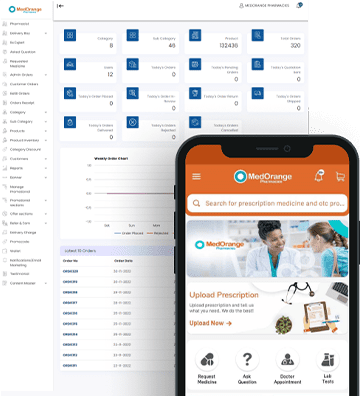 One Bharat Pharmacy
One Bharat Pharmacy is a New Delhi-based online pharmacy and lab appointment booking platform.
View case study